Kentucky is a great state, filled with unique things to see and do for a memorable trip. It has a wide range of different attractive locations and peaceful natural parks that makes it one of the best places to go on vacation.
1. National Corvette Museum
Whether you are an automobile expert and a lover or not, the National Corvette Museum will definitely mesmerize every single person. It is located in Bowling Green, Kentucky, and was constructed in 1994. The National Corvette Museum display Chevrolet Corvette, an American sports car that has been in production since 1953. The visitors will get a chance to explore over 80 different Corvettes designed and built in different periods of America's history. In the National Corvette Museum, there is a unique prototype that can't be seen anywhere else in the world. Where an adjacent NCM Motorsports Park and Mint classics can be spectated or raced a lap by visitors of their own. Throughout the year many racing events are held like the MiM Nascar in the South race and the Michelin NCM Bash.
Dinosaur World is one of the amazing things to explore in Kentucky that you should visit. It is a chain of outdoor dinosaur theme parks in the US. The Dinosaur World is one of three authorized, all made by Christer Svensson, who is a Swedish businessman, he turned a Florida alligator farm into the Dinosaur World in that state. In this theme park, you will get to see over 100 different life-sized dinosaur statues. All the statues wind through a gorgeous green forest, filled with raptor claws and dinosaur eggs. Your kids will surely enjoy this place.
3. Mammoth Cave Adventures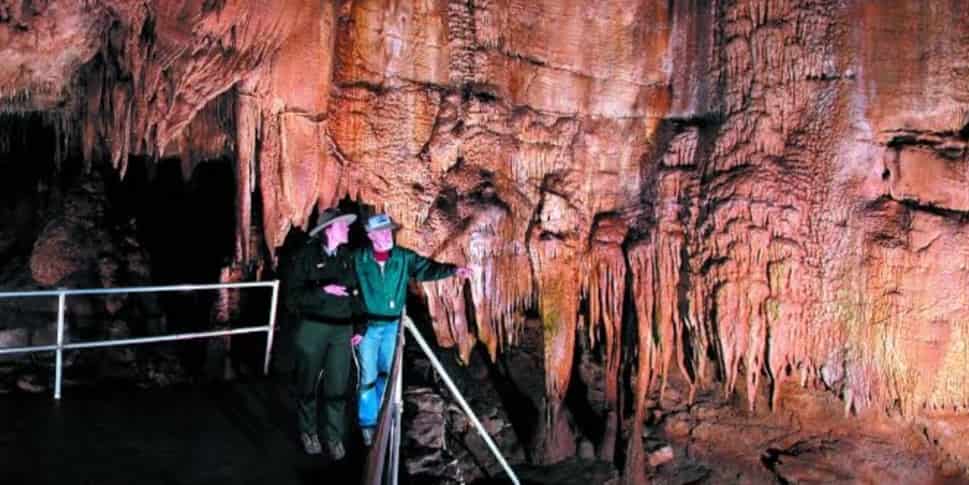 The landscape vibe of the Mammoth Cave National Park makes it an amazing place to visit. It is among the oldest cave systems in the world. The Mammoth Cave is a national park in south-central Kentucky. This place has plenty of options and activities for you to explore. The park's 52,830 acres are located primarily in Edmonson County, with small areas extending eastward into Barren and Hart counties. The Green River runs through the park called Nolin River feeding into the Green just inside the park. You can explore any 200-foot-tall Mammoth Dome or 400 miles of Mammoth Cave passages. The visitors can see the intimidating Frozen Niagra and examine the huge limestone pillars of the Ruins of Karnak. You can go cycling, hiking, canoeing, horseback riding, and many more. Mammoth Cave National Park is one of the cool places that's educational, fun, and stunning all at once.
4. Creation Museum
The Creation Museum is one of the best Kentucky attractions you can find, it is located in Petersburg, Kentucky, United States. It is a museum that promotes young Earth creationist, pseudoscientific and is operated by the Christian creation apologetics organization Answers in Genesis. If you visit the Creation Museum definitely you will enjoy the historical significance and fascinating features of the museum. Make sure to walk through the God's Word exhibit and explore life-size dinosaurs, the Tower of Babel. Have a picnic in the Botanical Garden of Eden.
5. Kentucky Kingdom
The Kentucky Kingdom is also known as Six Flags Kentucky Kingdom. It is an amazing fun theme park full of awesome and exciting stuff to do. The kingdom is located in  Louisville, Kentucky, United States on 67 acres. The theme park first opened its doors to the public in 1987, then it has been developed to add even more roller coasters and rides. The Kingdom includes a collection of a river ride, a 5D cinema, water rides, a playground, and a Ferris wheel. In this theme park, some of the rides are truly extreme. Also make sure to visit Hurricane Bay, too, which is another theme park right next door and specializes in water rides.