It is the home to the world's most active volcanoes, the only royal palace in the U.S., and the welcoming aloha spirit. No other place is like Hawaii on Earth. You can experience the glimmering ocean, emerald valleys, and golden sands. You can get lost in the spiritual beauty of the hula and find out how the warmth of people living in Hawaii.
1. Nā Pali Coast State Park
Nā Pali Coast State Park is a 6,175-acre (2,499 ha) state park in the U.S. state of Hawaii, located in the center of the rugged 16-mile (26 km) northwest side of Kauaʻi, the second-oldest inhabited Hawaiian island. Hiking trails and hunters' roads provide access to the sharp ridges from Koke'e Road (Route 550) in Waimea Canyon. Charter tours are available on a rigid-hulled inflatable boat or catamaran, originating from Port Allen and Hanalei Bay.
2. Pipiwai Trail
The Pipiwai Trail is a 4-mile (6.4 km) (round trip) hiking trail located on the island of Maui in the U.S. State of Hawaii. The hike leads up to Makahiku Falls and Waimoku Falls. The trail is located in Haleakalā National Park. It is one of the best scenic hiking trails in the world. Immerse yourself in the best of Maui's rainforest, as you hike through bamboo along a tranquil stream.
3. Hanalei Bay
Hanalei Bay is the largest bay on the north shore of Kauaʻi island in Hawaii. The town of Hanalei is at the midpoint of the bay. Hanalei Bay consists of nearly 2 miles (3.2 km) of beach, surrounded by mountains. In the summer, the bay offers excellent mooring for sailboats, stand-up paddle boarding, and swimming. The wetlands of Hanalei Bay were used to grow taro by ancient Hawaiians.
4. The Byodo-In Temple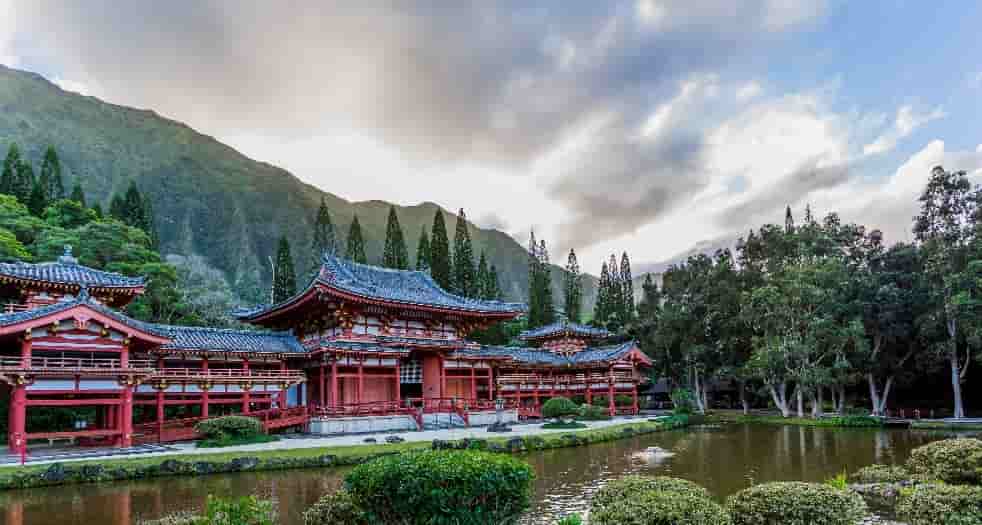 The Byodo-In Temple is a non-denominational Buddhist temple located on the island of O'ahu. The temple is a replica of a 900-year-old Buddhist temple at Uji in Kyoto Prefecture of Japan. It welcomes people of all faiths to participate in its traditions. Apart from worship, the temple grounds are also used for weddings and office meetings. It is surrounded by lush grounds, Oahu's Byodo-In Temple is tucked away in the Kahalu'u Valley at the foot of the Ko'olau mountain range.
5. Waimea Canyon State Park
Waimea Canyon, also known as the Grand Canyon of the Pacific, is a large canyon, approximately ten miles (16 km) long and up to 3,000 feet (900 m) deep, located on the western side of Kauaʻi in the Hawaiian Islands of the United States. The canyon has a unique geologic history as it was formed not only by the steady process of erosion but also by a catastrophic collapse of the volcano that created Kaua'i.